Asbestos Surveyors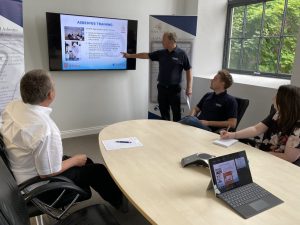 We have a vacancy for two experienced Asbestos Surveyors in our Consultancy Division to carry out UKAS accredited Management, Refurbishment, Re-inspection and Demolition asbestos surveys in accordance with the organisations Consultancy Quality and Technical procedures, Quality Management system and Health & Safety documentation.
Candidates must have experience of surveying a wide range of varying premises, be able to work solo as well as being a team player in a fast paced environment.
An attractive package includes company vehicle, mobile phone and potential overtime opportunities. The candidate must be flexible and able to work away when required given our extensive nationwide clients.
We offer in-house career progression and constant mentoring within the various segments of the industry which includes waste, training and removals.
Salary is negotiable and dependent on experience. Ideally candidates will be in and around South Yorkshire, or within 1 hours drive of the Sheffield Office.
Read the detailed Job description HERE.
To apply please send your CV in the first instance to [email protected]
Asbestos Contracts Manager
We have a vacancy for an experienced Asbestos Contracts Manager, (Contracts Division).
The individual should be highly experienced in the field with a proven track record. He/she will be responsible for sourcing new clients, preparing estimates, risk assessments and method statements. Preference will be given to candidates with IOSH Managing Safely, NEBOSH or similar qualifications.
An attractive salary package including performance related bonus and company car will be available to the successful applicant.
To apply please send your CV in the first instance to [email protected]